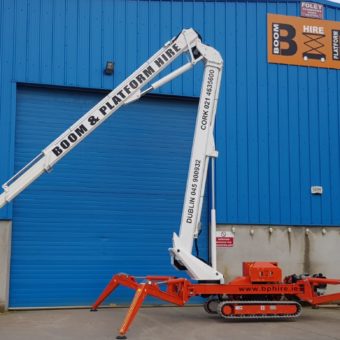 Spider Lifts – Lets discuss the advantages of Spider Lifts and Where you might see a Spider Lift onsite?
But first, lets take a look at some of our Spider Lifts at the Boom & Platform Hire depot in Dublin
Spider lifts have a small base supported by four legs in order to maintain a strong grip and solid support.  This allows for unique advantages such as:
One obvious advantage of the compact base, it that storage space needs for Spider Lifts are not very high, in fact some Spider Lifts are 30 inches in width and 6 feet in height.
Spider Lifts are equipped with multiple hinges in its arm which allows it to address any potential obstacles. The arms of the recently arrived Easylift Spiderboom at Boom & Platform Ltd. have a reach of between 15 and 26 metres.  So, difficult to reach areas on a project, Spider Lifts would be the perfect solution.
As you can see from the Spider Lift images above, they are slim in build and thus, not overly heavy in comparison to other plant hire equipment.  So, they are easier to handle and extremely versatile.
Spider Lifts as you can see from the images are kitted with tracks, so, no flat tires and better access to rougher terrain.
Relative to other plant hire equipment, learning to drive and operate a Spider Lift is quite easy.
Enough of the talk, check out some Spider Lift videos from Boom and Platform Hire Ltd…..
Where might you see a Spider Lift, some uses on site?
So, based on the advantages listed above, where might you see a Spider Lift in action?  Here goes!
Narrow Entrances
Grassy Slopes
Internal Atrium Work
Tree Surgery
Fire Protection
Air Conditioning
Industrial Cleaning
Do you need a Spider Lift – Nationwide?
In fact, we three types of Spider Lifts currently in our fleet at Cork and Dublin, from Hinowa, Teupen and Easy Lift…, which you can visit here. Call the office today and we will have a Spider Lift onsite nationwide within 24 hours, call he Dublin office on 045 900 932 or the Cork office on 021 463 5600.