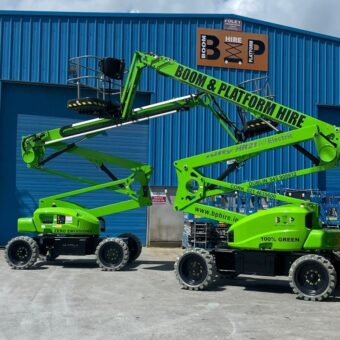 The Nifty HR21E Zero Emissions Electric Boom has many benefits, making it one of the best lift booms in its class. One thing that stands out in this machine is its electric wheel motors.
While hydraulic wheel motors power most boom lifts, this machine performs better thanks to its electric motors that improve its efficiency.
If you are working in an area where sound may be an issue, then an electric boom might just be what you need. Check out some of the advantages of the Nifty HR21E and let the team at Boom & Platform Hire Ltd. know exactly what you need.
The Advantages of an HR21E Niftylift
There are multiple benefits of using this machine, including:
160-degree Platform rotation
One thing that stands out about this machine is its flexible maneuverability. This machine has an arm that swings up and down as the hydraulic platform spins horizontally. This is perfect for performing tasks in areas that cannot be accessed easily.
Cover difficult-to-reach areas with ease.
Improved battery performance
This machine can operate for an extended period when it's fully charged. This is thanks to its efficient all-electric powertrain and cutting-edge battery power system.
Improve work output with this extended battery life. There are full battery monitoring and protection capabilities with the HR21E.
Wirth minimal maintenance required machine downtime is also kept at a minimum.
At Boom & Platform Hire Ltd. we ensure that you will only have the best quality machines at your disposal.
We conduct thorough diagnostics once each machine is returned ensuring we only deliver the best performing equipment no matter where you are in the country.
Improved Safety in the Workplace:
Zero Emission electric booms are not only better for the environment, but you will also find they improve safety in busy workplaces.
Older boom lift designs can be loud and produce great amounts of dust and smoke all of which can hinder your workplace safety.
We zero emissions and greatly reduced sound the Niftylift booms will improve workplace safety and allow for better communication among team members.
Features you should know about:
Working Height (A)-20.8m 68ft 6in
Working Outreach (C)-13m 42ft 8in
Platform Height (B)-18.8m 62ft
Machine Width (F)-2.27m 7ft 5in
Machine Height (D)-2.18m 7ft 2in
Machine Length (J)-6.62m 22ft
Transport Length (H)-5.47m 17ft 11in
Travel Speed-6km/h 3.7mph
Gradeability-25% / 14°
Turning Radius-3.89m 12ft 9in
Minimum Weight-6640kg 14640lbs
Safe Working Load-250kg 550lbs
Fly Boom Arc-150°
Cage Rotation-160°
Cage Width-1.80m 5ft 11in
Cage Depth-0.8m 2ft 8in
Power Options-Battery only
Why Boom & Platform Hire Ltd.?
Boom & Platform Hire Ltd. has been supplying the Irish construction and maintenance industry for many years. We only supply quality equipment which has been tried and tested by our team members.
You can hire from us for short or long periods and we will conduct maintenance work where and when required.
Our range of boom and platform lifts helps you get the job done faster and safer no matter how difficult the task may seem to be.
We also offer training on the use of all of our equipment.
Our Conclusions on the Nifty HR21E Zero Emissions Electric Boom
While many boom lifts can get the job done for you, there are many reasons to go for the Nifty HR21E Zero Emissions Electric Boom. Apart from the fact that it has a significantly longer outreach, you also get access to state-of-the-art technology and improved safety.
If you are interested in our range of zero emission lifts or other access equipment, get in touch with the team today.