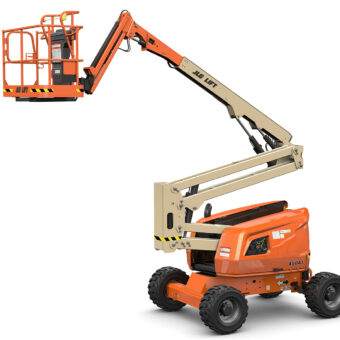 Electric boom lifts are the ideal machine for carrying out construction, maintenance and inspection work on a wide variety of building and construction projects. At Boom & Platform Hire Ltd. we have a variety of Electric Boom Lifts, Genie Electric Boom Lifts and a wide range of Telescopic and Articulating Boom Lifts.
This along with our training and other machinery ensure your team are always up to standard, know their equipment and that you have all the machinery you need to get the job done.
For an example of the specs of some of our machinery, we will look at the JLG 450 range of Electric Boom Lifts.
Overview of the JLG 450 Range of Electric Boom Lifts
A much more environmentally friendly piece of kit than many of its predecessors, the JLG 450 has a platform height of 45 feet. Though not the longest piece of machinery we have, it is ideal for roof and high wall work.
Its traction control ensures you can move over uneven surfaces. Perfect for busy construction sites, it also has a platform capacity of 500lbs.
This is an ideal weight for a pair of tradesmen and their tools, allowing space and safety for those using the JLG Electric Boom Lift.
We stock numerous pieces of kit from JLG as they have been at the forefront of electric boom lift technology, creating and designing innovative, safe and fossil-fuel-free machines for the past few decades.
Why would you use electric boom lifts?
Many sites and work areas across Ireland now require noise and waste level management.
By utilising specialist electric boom lift equipment, you reduce noise on-site, allowing for improved safety
There are no emissions from electric boom lifts, making your work areas cleaner and safer
Maintenance teams no longer have to worry about oil spills, refuelling or dealing with dirty exhausts.
Cleaner and safer workspaces are what we should all strive for when on-site and JLG Electric Boom Lifts are one step towards this.
The Types of Electric Booms at Boom & Platform Hire Ltd.:
Electric Articulating Boom Lifts:
Electric Articulating Boom Lifts have all the power of their diesel predecessors and it is also possible to get them in hybrid systems.
Electric Articulating Boom Lifts are ideal for hard-to-reach areas due to their multi-functional design, including full circular rotation and multi-point arm.
The design allows for maneuverability around, above and below obstacles.
The JLG 600AJ is our Articulating Boom Lift of choice at Boom & Platform Hire Ltd.
Genie Range:
Our Genie Electronic Boom Lifts range includes one of our latest arrivals the Genie® GS™- 4047. This Electric Boom Lift from Genie can be maneuvered at full height, has an incredible balance for your safety and is a compact size allowing for easy passage through doorways and tight spaces.
An ideal unit for interior and exterior work with zero-emission and decreased noise pollution.
Why Boom & Platform Hire Ltd. chooses to use Electric Boom Lifts:
Boom & Platform Hire Ltd. is committed to providing our clients and customer base across Ireland with the latest in Boom Lift technology and safety equipment.
As sites continue to be safer, environmentally friendly and quitter, it's important for technology to move the same way. Electric Boom Lifts are just one-way manufacturers are working towards safer and more efficient work-spaces.
JLG Electric Articulating Boom Lift, hybrid and petroleum systems are expertly crafted and designed machines capable of undergoing many hours of strain.
We are proud to be able to supply these quality systems to the construction and maintenance industries around Ireland.
Should you require any of our electric boom lift systems, contact Boom & Platform Hire Ltd. today in Cork, Dublin and Wicklow – see our contact us page here.