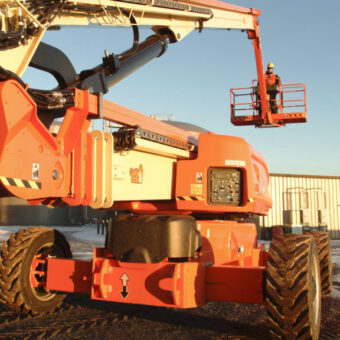 The JLG 1250AJP articulating boom lift at Boom & Platform Hire Ltd is one of our most sought-after machines due to its performance history and the many features which make it another great piece of kit from JLG.
What is an Articulating Boom Lift?
There are many variations of boom lift and access lift technology with the most recognisable being the aforementioned articulating boom lift.
Boom lifts use joints to reach up and out from their motor platform. This allows tradesmen, maintenance crews and inspectors access to difficult to reach areas.
Articulating boom lifts are ideal for difficult access points, indoor inspection and maintenance work and provide a high degree of safety and manoeuvrability.
The key specs for the JLG 1250AJP:
Key Features
JLG's patented QuikStick® boom design significantly reduces lift/lower cycle times.
Four-wheel drive and four-wheel steer plus oscillating axle for superb job site mobility.
Dual platform capacity with up to 450 kg available provides increased versatility and productivity.
Key Specs:
Working Outreach: 19.90 m / 65.3 ft
Working Height: 40.30 m / 132.2 ft
Platform Capacity – Unrestricted: 230 kg / 507.1 lb
Platform Capacity – Restricted: 450 kg / 992.1 lb
The JLG 1250AJP boasts a quick lift/lower cycle time, a powerful diesel engine and a platform capacity of up to 450kgs. This is more than enough power, speed and versatility for conductors to perform work effectively.
Why use the JLG 1250AJP as your Boom Lift of Choice?
With an outstanding performance history, powerful four-wheel drive capabilities and a working height of over 40 meters the JLG 1250AJP is the perfect machine for conducting most surface to height level work.
The platform capacity ensures incredible safety even when reaching maximum height. It is a great piece of machinery for outdoor work, its speed a range mean you can get projects completed quickly ensuring you make saving regarding hiring and maintenance costs.
Why We Choose JLG:
JLG has been in the access and safety platform design and manufacturing business for decades. Their records show for themselves, and it is why we choose to rent and supply JLG machinery to professional operators across Ireland.
In more recent years they have been transitioning to electric and hybrid operating systems, while their diesel-powered machines continue to operate effectively across Ireland.
Hiring From Boom & Platform Hire Ltd:
Boom & Platform Hire Ltd has two locations in Ireland, this allows us to supply our customers across Ireland with the machinery and equipment they need to get the job done.
We also conduct verified training. should you or your employees wish to become certified drivers for any of our machine's please feel free to get in touch.
Along with the JLG 1250AJP we have a wide range of JLG machinery including boom lifts and telescopic lifts.
Our machines are routinely tested and undergo continued maintenance. You can rely on our machines to get your projects completed on time and without any hassle.  See our Cork and Wicklow – Dublin locations and contact details here.