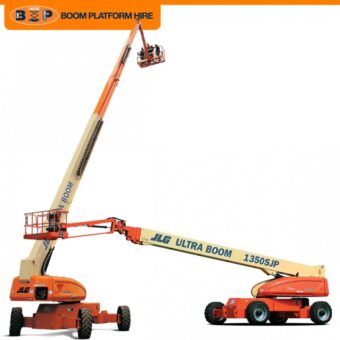 At Boom & Platform Hire Ltd. we aim to provide our customers throughout Ireland with the quality equipment that they need to get the job done.
With two strategic locations throughout Ireland, we can deliver or arrange pickup of a wide variety of boom lifts, rotating teleporters, scissors lifts and much more. We also provide hands-on and certified training courses for much of the machinery that we supply.
Today we are going to delve into some of the specifics of the JLG 1350SJP, one of our specialist telescopic boom lifts.
JLG Overview:
JLG is the world-leading manufacturer of access equipment. They have been pioneers in boom lifts, access platforms and the development of an array of safety equipment for the manufacturing, services and maintenance industries.
Boom & Platform Hire Ltd is proud to be one of the leading providers of JLG access equipment in Ireland.
We follow the high standards set by JLG by conducting regular maintenance and testing on all our equipment.  Which brings us nicely to the JLG 1350JP…
JLG 1350SJP Specifications:
Horizontal Outreach: 80 ft / 24.38 m
Platform Capacity – Restricted: 1000 lb / 453.59 kg
Platform Capacity – Unrestricted: 500 lb / 226.80 kg
Platform Height: 135 ft / 41.15 m
Ground to 135 ft up in 95 seconds
Strong 100,000-psi steel and a dual 1,000 / 500 lb capacity give you stability and capacity
Reach Specifications:
Horizontal Jib Rotation 180 Degrees
Horizontal Outreach 80 ft / 24.38 m
Platform Height 135 ft / 41.15 m
Is it right for the job?
The JLG 1350JP is the perfect piece of machinery for construction, cleaning and maintenance work on large buildings. It can be used on building sites and for heavy-duty maintenance.
Its large reach means it should only be rented and used when necessary. At Boom & Platform Hire Ltd. we believe in having the right tools for the job, with our wide range of machinery available we will ensure that you have what you need and no more.
The JLG 1350JP is the perfect machine for those who value safety, efficiency and durability on heavy-duty projects.
The hiring costs also ensure you do not waste money on maintenance, repair and storage as we know this piece of kit is not something that you will use every day.
We can provide long term leases for large scale projects; you just have to let us know in advance so we can prepare everything that you will need for the job at hand.
The multifunctional platform of the JLG 1350JP means it is perfect for indoor work as well, we most commonly see the JLG 1350JP in use when working on storage facilities, stadium roofing and many interior electrical and maintenance projects.
Ideal quality in the JLG 1350JP:
With a vertical reach of over 41 meters and a horizontal reach of over 24 meters, the JLG 1350JP can avoid obstacles, ensure safety and its quick launch time means you do not waste time positioning your machinery before getting started on the projects ahead.
Hiring at Boom & Platform Hire Ltd.:
With years of experience in the construction and heavy machinery industry, Boom & Platform Hire Ltd. are here to provide our customers with top level service and machinery.
Should you require any of the equipment we have in stock including the JLG 1350SJP feel free to get in touch with the team today.  See our Contact Us page for our office details in Cork and Wicklow – Dublin.
We have two centres in Ireland, in Cork and on the Wicklow & Dublin border ensuring we can supply you with all you need in the shortest amount of time.