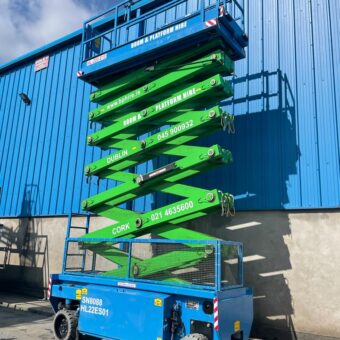 A scissor lift is your ideal machine if you need to get work done off the ground safely and securely. Boom & Platform Hire Ltd. has several scissor lifts available for your working needs including the Holland HL-220 E12. This is an ideal, tried and tested scissor lift for almost all your working at height needs.
Here's an outline of the Holland HL-220 E12 Electric Scissor Lift.
Technical Specifications of The Holland HL-220 E12
It carries 920kg of tare weight, with a maximum load capacity of 500kg. It carries a 3.38 x 1.16 m platform which can be extended by one meter to achieve an extended platform size of 4.88 x 1.16 m. It has a maximum speed of 2.4 km/h and a minimum of 0.4 km/h. It is powered electrically by a 48 V, 500 Ah battery, with an onboard 230V power port. Its maximum working height is 22 meters. It has a 2.67-meter wheelbase and a 3.92-meter turning radius. It can stably work at a 25% gradient.
Design Features of The Holland HL-220 E12
The Holland HL-220 E12 scissor lift is built mainly for indoor usage. It can still be used for outdoor lifting, as long as you don't depend on it too much for moving weight around. It prides itself on having several unique features for your working at height operations.
Let's highlight some of them.
Tight-space maneuverability – the HL-220 E12 can easily find its way through small passages, owing to its one-meter width and scissor design which doesn't need extra horizontal space for elevation or descent. It can comfortably make swift turns in limited areas, with its required turning radius being only 3.92 meters.
It is a piece of great working equipment – unlike most other hydraulic lifts, the Holland HL-220 E12 is not just a load carrier. It is designed to give users an elevated workspace that allows for maneuverability.
Practical height and platform design – the scissor lift has an astonishing maximum lifting height of 21.7 meters. Its platform is adjustable by a meter, which makes it efficient for a wide range of load sizes. This height should be more than enough for any practical maintenance and installation work.
Safety Features of The Holland HL-220 E12
Holland Lift has added some safety features to the HL-220 E12 to ensure its users enjoy a risk-free experience. They include.
Protective scissor skirt – all Holland scissor lifts are sold with a protective scissor skirt which keeps the scissor frames and joints out of reach. Minimal contact with moving parts of the machine means fewer accidents.
Descent safety – you don't always have to descend to drive the lift. It can comfortably move around without necessarily lowering the platform first.
Flashing beacons – the lift has indicators that help warn everyone that there's an active machine nearby. It is a great feature, especially for poorly lit environments and working at night.
Drive alarm – it notifies the operator in case of unexpected motion or any irregular commands.
Emergency descent – the lift has a mechanism that detects any malfunction with the hydraulic system. In case of any issue, it automatically lowers the platform safely to the ground level. The operator can also activate this feature from the control panel.
Our Conclusions on the Holland HL-220 E12 Electric Scissor Lift

The Holland HL-220 E12 Electric Scissor Lift is ideal for all your indoor working form height needs. If you require a scissor lift from Boom & Platform Hire Ltd. then get in touch with our team today and we will be happy to discuss your delivery requirements.  See all our contact details here.