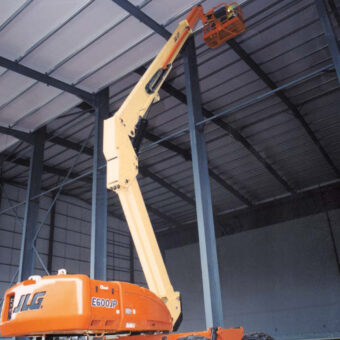 Do you wish to conduct tricky height work safely, with minimal noise and while using some of the latest in platform access technology? Then you may consider hiring out the JLG E600JP from Boom & Platform Hire Ltd. One of the latest pieces of machinery in a long line of electronic bloom lifts, the JLG E600JP is a state-of-the-art telescopic boom lift from the manufacturers at JLG.
The specs of the E600JP include:
Working Height: 20.39 m / 66.9 ft
Working Outreach: 14.19 m / 46.6 ft
Platform Capacity: 230 kg / 507.1 lb
Key Features:
Largest electric drive booms in the industry offering a 20m working height
Increased accessibility with the optional JLG PLUS® with side-to-side movement and near-vertical JLG operation
Zero emissions, reduced noise and standard non-marking tires for environmentally friendly equipment
Standard Automatic Traction Control and oscillating axle for increased manoeuvrability and outstanding terrain performance
High-efficiency direct electric drive with longer duty cycles for increased productivity.
The E600JP and the Environment:
JLG has been leading the way in the manufacturing of environmentally friendly machines over the past few years and this has come with some incredible benefits to operators and tradesmen.
Electric boom lifts such as the E600JP eliminate emission on-site, allowing for cleaner air to circulate.
Operator's and providers such as us, do not have to stock up on petrol and other dangerous fuels.
Its low noise makes for easier communication and improves on site safety.
The long-lasting battery and auxiliary power ensure that projects can be completed on time.
The continuous improvement of technology only means we will see more improved vehicles in the future.
Boom & Platform Hire Ltd. and JLG:
Having supplied machinery and equipment to tradesmen and other professionals over the past number of years, BP Hire has chosen a select few designers and manufacturers as our go-to for the latest in access and safety equipment machinery, one of these being JLG.
They have been at the forefront of designing expert vehicles and machines for safe and secure access for decades. Our stock includes electric boom lifts, scissor lifts, telescopic lifts and much more.
We continually add to the machinery collection that we can provide to qualified individuals across Ireland.
Telescopic Boom Lifts:
While not having the same operational capabilities as an articulating boom lift, telescopic lifts can generally reach higher than articulating lifts due to the reduced number of sections.
While limited in certain aspects, the E600JP allows for reduced noise pollution and it is the largest electric telescopic boom lift available on the market, showing once again the inventiveness of JLG.
Thanking of hiring at Boom & Platform Hire Ltd.?
Should you need well maintained and tested access equipment for your construction or maintenance project's get in touch with Boom & Platform Hire Ltd. today in Cork, Dublin and Wicklow – see our contact us page here.