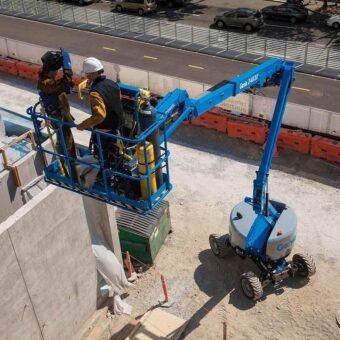 With depots in Wicklow and Cork, strategically located throughout Ireland, Boom & Platform Ltd. provides professional training along with machinery for hire and sale. Our training includes the use of our machines and also the site-safety, manual handling and among much more. Today we are going to have a look at the Genie Z45, its operational capacity and safety when using such machinery and similar models.
Genie Z45 – Machine Overview & Ideal Environments
The Genie Z45 is an excellent boom lift for any operation, but particularly in areas that are difficult to access and require greater heights.
The Genie Z45 is electric, diesel, bi-energy, and dual fuel configured, which means that it is an ideal machine for working both indoors and outdoors.
This machine comes in two variations, including a 4WD transmission. Users in rough terrain and harsh weather conditions do not have to worry about performance. With three entry points and a 6=ft platform, it means that there are enough freedom and space for two operators to work comfortably.
The Genie Z45 has a 500 lb. lift capacity meaning operations such as window installation and drywall hanging will be easy to perform.
Some further specifications:
Working Height: 15.90m
Platform Height: 14.07m
Max Outreach: 7.64m
Safe Working Load (SWL): 227.00kg
Length Stowed: 6.83m
Width: 2.29m
Height Stowed: 2.11m
Weight: 6689.00kg
Power source: Diesel
Precautionary and safety measures to observe
At Boom & Platform Ltd. we wish to ensure that all our clients take the necessary precautions when operating machinery. We have put together this small list of safety precautions for you to consider when operating any machinery on site.
When handling any sort of equipment, it is important to ensure that all operators wear the right safety gear. Generally, for boom-type equipment, workers must wear a full-body harness with an adjustable lanyard. Where applicable, all operatives ought to take the following additional precautionary steps:
All operators of boom and other equipment must be trained to the highest quality. At Boom & Platform Ltd. we offer extensive training in the use of our machinery and other vital roles within the building industry. Regular testing and training on the use of the Genie Z45 and other models ensures a safe and productive working environment.
Ensure the entire base below which the machine is operating is kept clear
When operating any Boom or heavy machinery it's important to ensure the workspace around the vehicles are free and clear of obstructions. This ensures safety for those on the ground and ease of use for machine operators.
Do not exceed the set weight limit
Like any other boom lift, this one also has its weight capacity. Exceeding its limit even by a small margin could potentially cause an accident on site. The weight capacity should be given plenty of attention. At Boom & Platform Ltd. we provide expert training in all our machines.
Things to consider on every site:
Ensure availability of a hard hat (with a chin strap where necessary)
Appropriate safety footwear
Appropriate high visibility jacket or vest
Hand protection
Ensure that the lift is moved correctly
Who uses it/needs the Genie Z45?
Given its wide range of features, the Genie Z45 just like all our machinery is ideal for the maintenance and construction industry. The Genie Z45's high reach and articulating boom lift capabilities make it the perfect machine in sites with hard to access areas.
Similar machinery to the Genie Z45
Genie Z 33/18
NIFTYLIFT HR15BE
In need of a Genie Z45 for hire throughout Ireland?
If you need scissor lift hire in Dublin, Cork or around Ireland be sure to contact Boom & Platform Hire Ltd. hire for affordable rates provided in a professional and friendly manner.  We are available via phone at our Cork office on 021 463 5600 or at the Dublin office on 045 900  932 see all our contact details here.