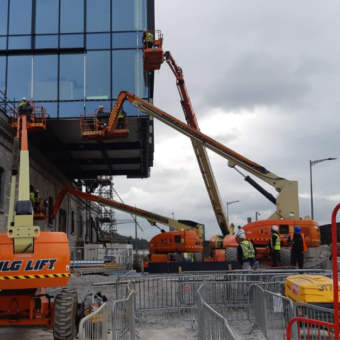 Get your Cherry Picker Hire Cork and access equipment today. Boom and Platform Hire Ltd. is one of Ireland's leading hire, sales, and service of access equipment companies in Ireland. We offer Cherry Picker, Scissor Lift and Spider Lift hire along with a whole fleet of different equipment and vehicles which make your job safer and easier. Along with Equipment hire and sales, we offer training in the use of each machine and courses in manual handling, loading and transportation, working from heights and a range of other courses and classes.
We have two fully stocked and supplied depots in Blessington, Co. Wicklow and Middleton, Co. Cork. Our strategic locations allow for easy access equipment hire across Ireland.
What we have in Stock, Cherry Pickers and more…
You can check out our latest arrivals here. These are the newest machines we have in stock while our current line-up also consists of:
Spider lifts
Diesel boom lifts
Diesel scissor lifts
Telescopic handlers
Specialist Units
Rotating teleporters
Electric scissor lifts
Electric boom lifts
Personnel lifts
Our range of equipment is regularly serviced, cleaned, and tested. We provide our clients with the best in the industry to ensure they have an easy time on site with the highest levels of safety possible.
Cherry pickers hire in Cork is one of our busiest range of vehicles due to its accessibility, safety rating and ease of use for different settings and environments. However, you will find equipment for all needs at Boom and Platform Hire Ltd.
Cherry Picker hire cork costs:
The cost of your cherry picker hire depends on several factors including location, the number of hire days and which machine best suits your needs. Get in touch with Keith Banim our Depot Manager in Cork, you can find all company contact here details, here.  Our team of experienced professionals will analyse your needs and requirements and propose the best option for your project and within your budget.
You can choose between single and multiday hire, there are a number of options available.
Why Hire a Cherry Picker Cork:
Being in the construction industry you know yourself that unless a machine is being used constantly the costs of maintenance, storage and wear and tear far outweigh the costs of hiring such machines. With our two ideally located depots in the south (Cork) and east (Wicklow/South Dublin) where we can deliver machines to almost any location on a particular day a cherry picker or in fact any boom or platform might be needed.
Why Boom and Platform Hire Ltd.?
When you hire from us you are hiring from a team with over 20 years' experience in the business.  We have a wide variety of cherry pickers and access equipment.  And we ensure when we supply a cherry picker throughout Cork or Ireland that it is operating to its optimum. Cherry picker hire cork is available throughout Munster and any operational issues can be taken care of by our team swiftly and efficiently.
Also, if you are in the market for used equipment, we have a wide selection of items available to choose from. Have a look at our site or visit a depot today and we are sure you will be impressed by both our new and used equipment available.
For Cherry Picker Hire Cork, Dublin, throughout Ireland – Contact our team today:
Should you need cherry picker hire or any other safety platform and access equipment be sure to get in touch with our team today. We are available via phone at our Cork office on 021 463 5600 or call Keith Banim direct on 086 041 5909. See all our contact details here.